When BMW introduced the new MINI Cooper in 2000, adding MINI to the Nikolas Motorsport service line was a natural. The new MINI Coopers share many technology and diagnostic platforms with the BMW vehicles. They look considerably different, most are front wheel drive cars, and the engines have been developed separately. However, the similarities in engineering, maintenance, and repair, have made MINI a great fit. Also, many of the MINI attributes have made many of our BMW customers cross over to also be MINI customers. In any case, when it comes to service or repair for your MINI, Nikolas Motorsport is again your "Dealership Alternative".
Nikolas Motorsport has the diagnostic capabilities and technical resources to handle all maintenance on your MINI, as well as the expertise to handle any complicated diagnosis or repair. We specialize in providing personal service, and recognize the importance of using only the best original equipment parts, fluids and supplies on your MINI. We provide service and repair to all newer MINIs, including R50, R52, R53, R55, R56, and R57 chassis designations. Some of our most typical services include:
Recommended Maintenance for MINIs
Condition Based Service
Inspection 1 and Inspection 2
Oil Service
Spark Plugs
Coolant Flush and replacement
Brake Fluid Flush
Engine Repair
Timing Chain Replacement
Timing Chain Tensioner
Oil Leaks
Supercharger replacement
Turbocharger replacement
Water pumps
Engine Electrical
Alternators
Starters
Ignition Coils
Camshaft Sensors
Batteries – including required battery registration
Air/Fuel System
Direct Injection Cleaning
Fuel Injection
Air Mass Sensors
Throttle Body
Fuel Pump
Cooling System Repairs
Radiator
Expansion Tank
Auxiliary Fan
Coolant Flush
Exhaust System
Exhaust Repair
Catalytic Convertor
Clutch
Clutch Replacement
Flywheel Replacement
Dual Mass Flywheel
Transmission and Drivetrain
Manual Transmission
Automatic Transmission
CVT Transmission
All Wheel Drive
Transfer Case
Axle Boots and Axles
Wheel Bearings
Springs
Suspension
Struts
Shock Absorbers
Control Arms
Bushing Replacement
Steering
Tie Rods
Power Steering
Electric Power Steering Pump
Electric Power Steering Fan
4 Wheel Alignment (properly weighted to MINI specifications)
Brakes
Brake Pads
Brake Sensor
Brake Rotors/Discs
Brake Fluid Flush
ABS, DSC Dynamic Stability Control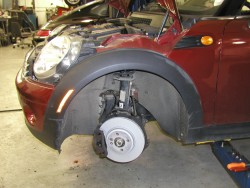 Wheels and Tires
We are a "Tire Rack Recommended Installer"
Lighting
Xenon Lights
Level Senders and Light Controls
Climate Control
Automatic Climate Control
Fan Speed Controls/Final Stage
Heat Control Valves
Blower Motors
Please contact us regarding any service or repairs your MINI is in need of.