Nikolas Motorsport has been in the business of providing independent Porsche service since 1987. When David Nikolas founded the business he was fresh from the dealership organization and ready to build a business based on personal service and high quality workmanship and parts. In those early days there was a heavy emphasis on performance enhancements as well. Almost thirty years later the cars have changed significantly, but the same goals apply. At Nikolas Motorsport we specialize in providing personal service, high quality workmanship and OE parts for your Porsche. Since we specialize in Porsches we recognize the importance of using only the best original equipment parts, fluids and supplies. Items like coolant, transmission fluids, differential fluids and transfer case fluids, are never generic. We use only Porsche specified fluids to insure trouble-free operation of your vehicle. Where appropriate, we will offer our recommendation for shortened service intervals to increase your vehicle's life. We are your "Dealership Alternative". Nikolas Motorsport has the diagnostic tools and technical resources to handle all basic maintenance and routine repairs, as well as the more complicated diagnosis and repair on all newer Porsches. If you are also interested in improving the performance of your Porsche, Nikolas Motorsport is still the place.
Technology has changed, but the results are still the same; increased lifespan for your Porsche, improved performance and a more personalized Porsche. Most all of our services are warranted for two years, and unlimited miles. At this point we provide service and repair to all newer Porsche vehicles. We still see a number of the older air cooled Carreras and Turbos going back as far as the 1984 model year.
Recommended Maintenance for Porsches
Major service/Minor service
Oil Service
Spark Plugs
Coolant flush and replacement
Cabin/Micro filters
Fuel Filter
Transmission Service
Differential Service
Brake Fluid Flush
Valve Adjustment
Engine Repair
IMS Bearing Upgrades
Oil Leaks
Turbochargers
Engine Electrical
Alternators
Starters
Ignition Coils
Camshaft Sensors
Batteries
Air/Fuel System
Fuel Injection
Air Mass Sensors
Throttle Body
Fuel Pump
Cooling System Repairs
Radiator
Expansion Tank
Auxiliary Fan
Coolant Flush
Water Pump
Exhaust System
Exhaust Repair / Performance Exhaust
Catalytic Convertor
Clutch
Clutch Replacement
Flywheel Replacement
Dual Mass Flywheel
Transmission and Drivetrain
Manual Transmission
Automatic Transmission
All Wheel Drive – Carrera 4
Transfer Case
Axle Boots and Axles
Wheel Bearings
Springs
Suspension
Struts
Shock Absorbers
Control Arms
Bushing Replacement
Steering
Tie Rods
Power Steering
4 Wheel Alignment – Stock or Performance Specifications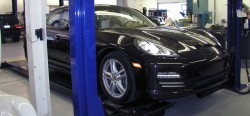 Brakes
Brake Pads
Brake Sensor
Brake Rotors/Discs
Brake Fluid Flush
ABS, DSC Dynamic Stability Control
Wheels and Tires
We are a "Tire Rack Recommended Installer"
Lighting
Xenon Lights
Level Senders and Light Controls
Climate Control
Automatic Climate Control
Fan Speed Controls/Final Stage
Heat Control Valves
Blower Motors
Please contact us regarding any service or repairs your Porsche is in need of.