Posted by

Charles Oehmke
Comments Off

on How To Know if Your BMW is Leaking Oil from the Alternator Seal
Owning a BMW vehicle is quite a thrill, as they are among the most remarkable automobile manufacturers around. As BMW vehicles are trustworthy and resilient, they've earned quite a reputation in the automobile industry. Some BMW models can develop faults with their alternator seals over time, leading to oil leaks.
Oil leaks from alternator seals
are quite common with BMW owners, but thankfully, you do not have to get alarmed over it, as there is a practical solution to this issue. Since all machines are prone to faults, the alternator seal is also susceptible to issues. It is essential to catch these issues with the seal, and with the whole vehicle in general, as you can ensure your safety while avoiding much larger and expensive damage. This article will help you to understand what an alternator seal is and how to detect leaks from it. The Function of the Alternator Seal An alternator seal is a necessary gas [...]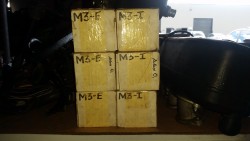 When considering the idea of trusting your BMW, PORSCHE, or MINI to a repair shop there are many things to consider. Outlined below are a number of questions you might want to ask yourself before entrusting your BMW, PORSCHE or MINI to just any repair shop:
Does the repair facility specialize in your specific car?
There are many types of specialization in the automotive business. Technically speaking, the quick lube shop specializes in oil services. However, in almost all cases, they will not be able to reset your oil service lights, and will not stock the manufacturer approved oils or OEM filters. Likewise, many shops specialize in foreign cars or European cars. Today, it is extremely difficult and expensive for a shop to maintain technical information and diagnostic tools for all makes and models. When selecting a shop you will have to ask yourself, do you want a facility that claims to be [...]
Stealth Hitches
If you drive a newer model BMW or Porsche and are looking for a means to tow a small trailer or a way to carry bicycles, without modifying your car to accept an unsightly exposed hitch receiver, Nikolas Motorsport can help. We have teamed with the leading manufacturer and distributor of hidden tow hitches, Stealth Hitches. The Stealth Hitches product line installs behind the bumper and leaves no evidence of a hitch on your vehicle when the ball mount or bike-rack connector is removed. Stealth Hitches tow hitches are tested and approved to the same regulations applicable to all OEM hitches and all vehicle-manufacturer hitches. Stealth Hitches actually provides hitches to many vehicle manufacturers, packaged in brand specific boxes. Their uniquely designed hitch locking mechanisms are the safest on the market.
No evidence of a hitch